We started our company in Mariposa, California, and we have been in San Diego since the summer of 2000. Dick is a 4th generation Dutch dairy farmer from New York, and when he was 12 years old, his Grandpa Pete taught him how to make ice cream.

Mariposa means butterfly in Spanish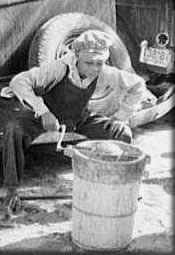 Grandpa told him that it's very simple to make good ice cream, using fresh milk and cream and other quality ingredients, which is the same philosophy that we follow in our parlour, using a fresh mix from the local dairy.
Today, we use a batch freezer that's designed to exactly duplicate the hand-cranked process, and we proudly display the 1923 White Mountain hand-cranked ice cream maker that the VanRansom family used on the farm.
Cold Facts
Our ice cream has no eggs (except Pumpkin and Cookie Dough).
Grandpa Pete said if there's eggs in it, it's custard.
Compared to most commercial ice cream, our ice cream has 1/3
less sugar and ½ the air.
Our sherbet contains a small amount of lowfat milk.
Our sorbet ("sor-bay") is dairy-free.