Mariposa Homemade Ice Cream is located in the heart of Normal Heights, in San Diego, California. We make and sell all of our Ice Cream, Sorbet and Vegan options in our shop on Adams Avenue.
For the past 23 years, we've been winning awards for the Best Ice Cream in San Diego, and have been highlighted in the New York Times as a must-visit when in San Diego.
This year, we're celebrating 23 Years
in Normal Heights!!
And were voted Best Ice Cream in
San Diego, by San Diego magazine.
No gimmicks, no need for expensive mix-ins, just good old-fashioned ice cream, served by the people who make it.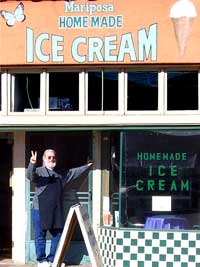 FEATURED FLAVORS
Peppermint
Eggnog
Thanks for
supporting us
for 23 years!!
December Special
 Buy a T-shirt, hat or $20+ gift card and get a FREE SCOOP!